The Bivamuntuyo agricultural project was set up in 2013 with the idea of growing the food that we then feed to the children in the Nutrition Unit.
The project trains local people in improving their farming methods so that they can generate more food and income for a healthy household.
The arable land is 7 football fields and every day about 8 to 10 people work there and receive a weekly salary. Various crops are grown such as corn, pumpkins, fruit and vegetables. We keep chickens for the eggs and pigs for sale.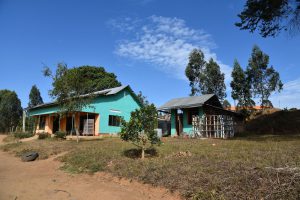 Gradually we see progress, the project gets more and more known in the area and people appreciate the service and the products we offer.
In a small shop some of the products grown on the land are sold.
Every year there are visitors who all lend a hand. A new shelter for the pigs has been built and a fence has been erected to keep unwanted visitors away.
The entrance gate now has a beautiful green colour and the various youth groups that pass by have built a colourful outdoor enclosure for the chickens.
The Biva animal family is regularly expanded to include piglets and chickens.
The employees of the country gain a lot of knowledge when they work at Biva.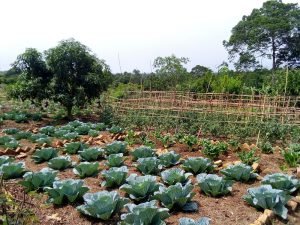 Every year we go with the group to Jinja to get new ideas at the farmers exposition. This is really an outing for the group, most of them don't come out of their village all year round and it is always a great experience to make a long journey, to be away from home and responsibilities, to sleep in a hotel room with shower and toilet and not to forget eating chips and chicken. We end the trip with a visit to the Nile, then we drink a very chic cup of tea or lemonade at the sailing club on the Nile. Everyone will take a picture with the beautiful background and come home with new stories and inspiration.
Over the years I have seen our staff grow and I am super proud of this team.